Although it is only November, the season is already upon us as the big-box retailers already have the decorations up and holiday music playing in the background to get the consumers geared up for the season.
Large retailers put aside healthy budgets for decorations in order to capture the spirit of the season, particularly for their window displays. Take for instance the Hudson's Bay  in Toronto, who unveiled on November 2nd their much anticipated annual holiday window display, featuring visual sets that encapsulate the winter and holidays through a snow globe theme.
A window display is a powerful tool to stand out from the competition as a small business retailer, especially during the holidays. Small retailers typically do not have the budget of big-box retailers. That doesn't, however, mean you can't take inspiration from them, and create a window display that can stand out and peak consumers interest and curiosity.
There are 3 main criteria to follow when creating a holiday display.
1.       Convey a message
First things first, it is important to establish what you want your window display to convey. The display needs to speak to the consumer, peak their interest and get their attention, get them to stop! Keep in mind you are not only attracting your existing customer base. The idea is to attract new customers that may not be aware of your company and get them to walk in.
How do you do this? Put yourself in your customer's shoes, understand what the holidays are about for them, and how you can help them be a part of it. Create a unified message.
For example, if you were an independent toy shop your customer is likely a parent or an aunt/uncle or grandparent looking for toys for their kids, niece/nephews or grandkids wish list. Yes, you may carry all the new and cool toys that are trending now, but how do you capture their attention and get them to walk in and check out your store instead of going into a big-box store? Nostalgia! Tap into your customers' emotions by letting them know you not only have something for their kids' wish list, but there may be something in there that they can enjoy, reminisce and treat themselves to.
2.       Capture the Spirit
Once you have established a message, figure out how you can use that message and capture the spirit of the holidays simultaneously. Whether it is a winter wonderland or Santa's workshop, the display needs to have a focal point. The focal point is what will initially attract the customer. This can be a display that focuses on a special item you carry in the store. Keep it clean and uncluttered. Find ways to make the scene more dynamic by thinking in 3-D, create depth and incorporate different types of lighting.
Going back to the toy store, why not create a scene of a home decorated for the holidays featuring a family gathered around a table, playing a game that reminiscence of your own childhood. Surround the tree with other toys that attract the kids.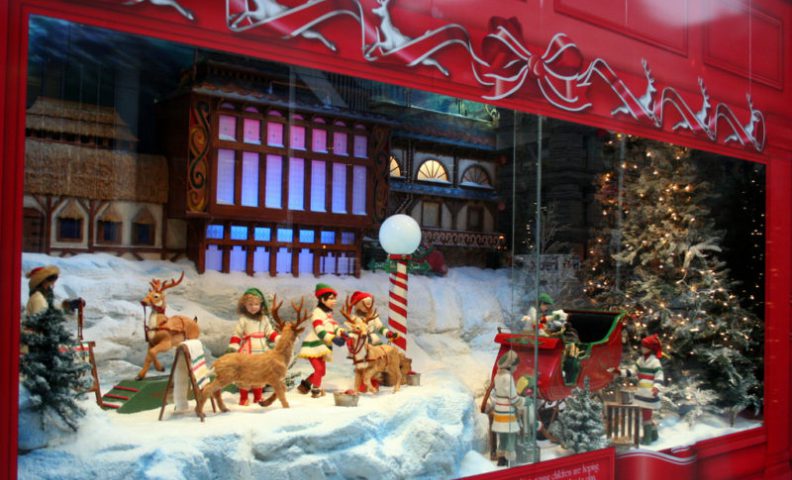 3.       Build Your Brand
Your window display should enhance your business brand. This can be accomplished by incorporating fonts, colours, or even a general sense of the atmosphere inside. Looking back at the Hudson's Bay window display, they do this in a clever way. They incorporate people into the scenes sporting jackets with bold colourful strips of the brand. Get creative with your brand and products, create trees out of shoe boxes, ties or books. That said, whatever is done in your store window should carry through to the rest of the store.
Remember you don't have to compete with the big-box stores, however they are a perfect study for inspiration. Be sure to look at your window display from your customers' perspective, stand back and view it from all angles.
Be creative, and most importantly capture the nature of your business and spirit of the season.