As technology advances and new generations enter the workforce, the office will continue to evolve in order to adapt to the current needs and requirements of the employee.
A couple of weeks back, we had the opportunity to attend Neocon in Chicago, the world's premier commercial design show. Having the chance to see and speak to some of the largest companies that focus on workplace environments, here are 4 trends that continue to grow and change our workspace in 2017.
1. Designing for the brand
In the past there has been two totally opposite perspectives on how the overall look of the office should be. It went from the traditional utilitarian space that focused strictly on getting the work done to wanting to create that "fun" space for the employee. With the vast amount of competition out there, businesses have come to realize branding is a crucial part in standing out and telling their story. Not only for the consumer, but also to attract the employee. This movement has become evident in all aspects, most visible in website identities, especially the "about us" page that has shifted from a traditional presentation page, to one that shares the company's history and unique identity. This realization has also moved into the physical workspace. It is no longer about the space focused solely on work or on the employee, it is about REPRESENTING YOUR BRAND AND COMPANY CULTURE. It is about showcasing your company's dynamic principles within the space and creating a successful environment to allow your employees to thrive.
2. Designing for the future
It is still important to understand that creating a space that represents your brand is only one aspect to the design. The employee is a crucial component to how and why the workspace evolves. As more baby boomers retire and millennials fill up the workplace, the requirements change in order to accommodate the new wave of employees. Furthermore, as the new Generation Z starts entering the workforce with the Millennials, the needs will shift. Continuous shift in work cultures makes it difficult for a business to predict how jobs will evolve, and environments will need to adapt. For this reason, FLEXIBILITY has become a key component in the workplace.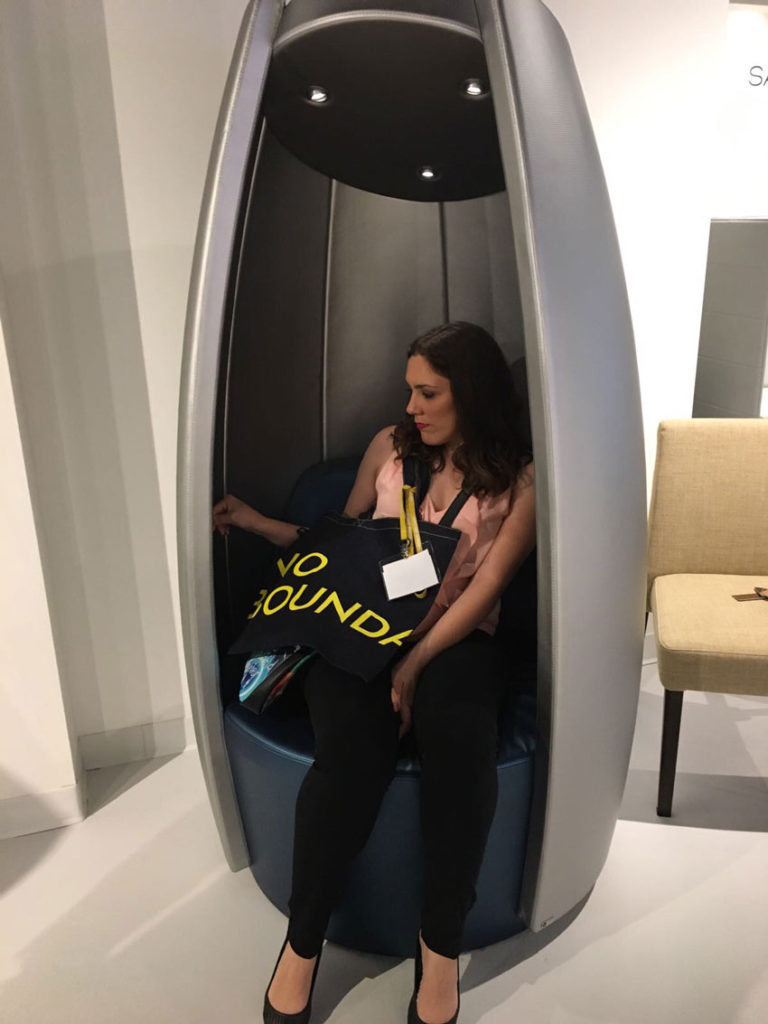 With the continuous changes in technology, smart offices are more common. Work has become more remote which has affected the work environment in two major ways. Adaptable furniture is key for designing with the future in mind, new technologies need to be incorporated with ease, and work spaces must be flexible to better support mobility in the workplace. With that in mind, there has been a shift from dedicated office space and more of a move towards Hot-Desking where multiple workers use a single physical workstation.
3. Designing for Choice
It is important to understand your business and your employee. Personally speaking, every business is unique in its own manner. As mentioned before, the company culture plays a large role in the overall design of the space. Know the work and understand how that matches your employees work preferences in order to get the most productivity out of them. There was a huge movement towards eliminating the cubicle and creating open spaces and eliminating the hierarchy within the workplace. Although this seems like a great movement to create a more collaborative workplace, it was not accommodating for certain tasks, in turn making some employees uncomfortable. What seems to be evident in the new work environment is CHOICE.
There were two components that stood out at our visit to Neocon:
Acoustics and Privacy
Offices are incorporating different spaces for different tasks where you have open work spaces, collaborative and enclosed private areas. Acoustics and privacy was clearly an important component this year, each company showcasing an emphasis on incorporating different types of private spaces, whether for smaller group collaborative spaces, or individual. The Cocoon by Carsten Buhl offered by Sandler Seating is an example of an acoustical pod which provides privacy and personal space. This unit is fitted with Bluetooth speakers, LED lighting and USB charger. Rest assured it was tested by yours truly and despite the openness of it the surrounding environmental noise was drawn out, and indeed felt like a cocoon.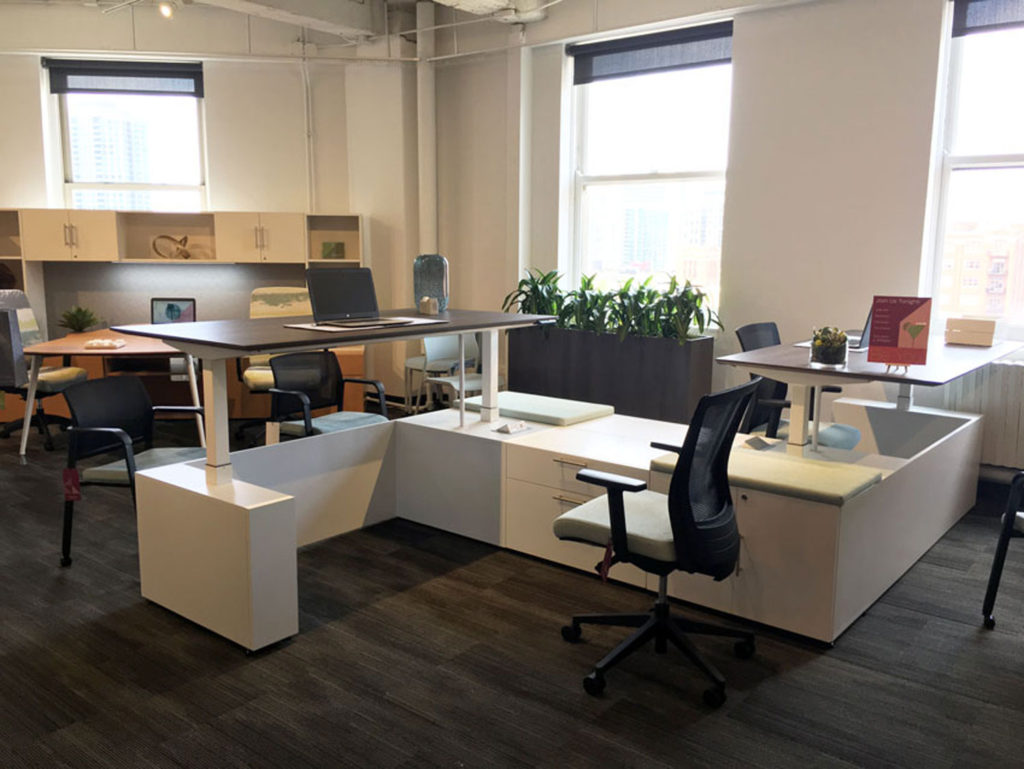 Adjustable Surfaces
Work surfaces are becoming more versatile allowing the employee to not be constrained to just sitting. AIS height adjustable work surfaces is one example of how many companies are focusing on flexibility.  Another important component is to not only have flexible desks, but to incorporate other high surfaces throughout the space and give employees freedom to move around and be mobile, and enable opportunities for brainstorming and discussion.
4. Designing for Employee Wellness
It is important to attract, retain and get the most productivity out of your employees as an employer and a business. We spend most of our day at the office and corporations recognize that. For this reason, wellness in the workplace has become a huge consideration when designing spaces. LEED was introduced back in the early 2000's as a means to create healthier indoor environments for occupants. As environments and people change, wellness has developed even further from just the incorporation of better air quality, less harmful products and energy efficiency. It has further focused on the mental wellbeing of the user within the space. This progress has allowed the workplace environment to evolve even further.
Ergonomic CUSTOMIZATION is key, and Neutral Posture showcased it best with their customized niche seating. Chairs can be customized for each employee depending on their condition, whether back pain, wrist pain, weight etc.  Safety is also a factor, introducing a bullet proof chair (who would've thought that would become a necessity?).  The N-tune chair goes back to the idea of flexibility allowing the user to sit or stand while performing a task in order to keep your body moving throughout the day.
Humans innately feel a connection to nature and it allows them to feel good and comfortable within a space. Incorporating nature within workspaces is now seen as an investment that will improve the wellbeing and performance of your employee.  You can see its influence through the finishes and textiles that are offered in natural finishes like wood and nature inspired patterns.
The workforce continues to evolve, and in turn it affects the physical workplace. Incorporating your brand, designing for the future, accommodating choices of how employees can achieve their tasks, and focus on employees' wellness within the workplace continues to be of importance when considering the design of your corporate space.